MEP INSTALLATION WORKS.
(HVAC, Electrical, ELV, Fire Protection, Plumbing & Sanitary fixtures).
Madar Al Jadeed have been providing reliable and innovative HVAC services in the UAE. We will assure that quality installation, Maintenance and Repairing. Ensure Air-conditioning problems are resolved quickly and effectively.
Our aim to be the best service provider. We are sourced highly experienced technical team that will make guarantee of the completion of works and projects.
HVAC (Heating, Ventilation, Air-Conditioning) INSTALLATION WORKS.
Ducted Split Unit System.
Package Unit System.
Chilled Water System.
Fresh Air System.
Smoke Ventilation System.
Shaft Ventilation System.
Staircase Pressurization System.
Basement Ventilation system.
ELECTRICAL INSTALLATION WORKS
Electrical Conduiting & Wiring Works.
Lighting Control System.
Cable tray and Trunking Works.
Cable Laying, Glanding & Termination Works.
LV Panels, Capacitor Bank, SMDBs, DBs Installation
DB Dressing Works.
ELV INSTALLATION WORKS
Structured Cabling Solution
SMATV System
Intercom System
Access Control System
Gate Barrier system
Lighting control system
CCTV Security system
FIRE PROTECTION INSTALLATION WORKS.
Fire Detection & Alarm system.
Emergency & Exit Lightings.
Monitoring Panels.
Public Address & Voice Evacuation Systems.
Piping Works for WET/DRY Risers.
Sprinkler Heads Installation.
Fire Extinguisher Installations
Fire Pump & Pump Room Valves Installation.
Clean Agent System
PLUMBING & SANITARY INSTALLATIONS
Water Supply Piping System.
Water Transfer/ Booster Pumps.
Water Heater System.
Solar water Heater System.
uPVC/ PVC Drainage piping System.
HDPE Drainage Piping System.
Sanitary Wares & Fixtures.
Testing & Commissioning.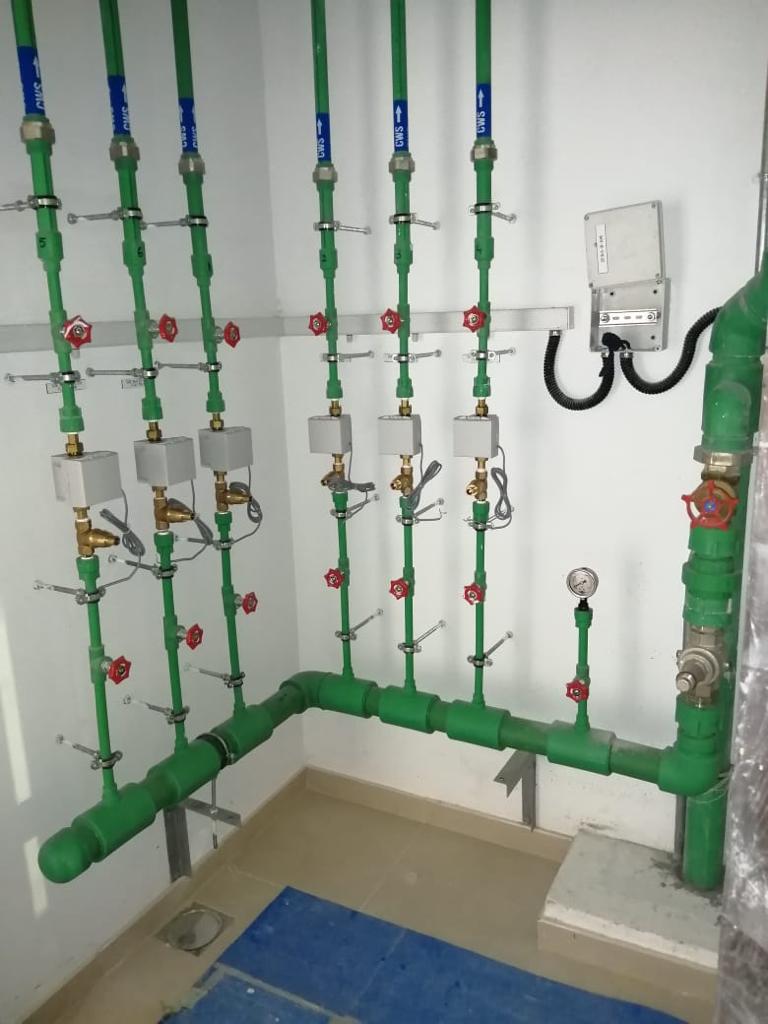 FACILITIY MANAGEMENT SERVICES.
Madar Al Jadeed is a reputed Facilities Management Service provider in the UAE. We are providing MEP maintenance, Small partition works, Floor, Wall tiling works and Building cleaning services.
Annual Maintenance contract for Air-conditioning Works
Periodical Maintenance service for AC Units.
Preventive Maintenance service for AC Units.
On-call Air-conditioning Servicing and Trouble Shooting.
Annual Maintenance contract for Electrical & Plumbing Works
Electrical Circuits fault finding & Rectification.
Periodical Maintenance works for LV Panel, SMDBs & capacitor bank.
On-call Electrical & Plumbing Service and Trouble Shooting
Repair & Replacing of Sanitary Wares & Fixtures.
Water Leakage, Repair & Maintenance.
Floor & wall tile works
Interior Design & Partitioning Works
Building Cleaning Works.
MEP OUTSOURCE ENGINEERING SERVICES.
Madar Al Jadeed is providing MEP Outsource Services like that Quantity Surveying & BOQ preparation, Estimation Solution, Design/ Shop Drawing Preparation. We have highly qualified & more than 15 years' experience team for this services.
MEP OUTSOURCE ENGINEERING SOLUTIONS
Quantity Surveying & BOQ Preparation.
Cost Estimation Preparation with Competitive Price
VALUE engineering & Optimum cost proposal preparation
Material & Manpower Budget Preparation.
Design Drawing Preparation.
Shop Drawing Preparation.
Co-ordination drawing Preparation